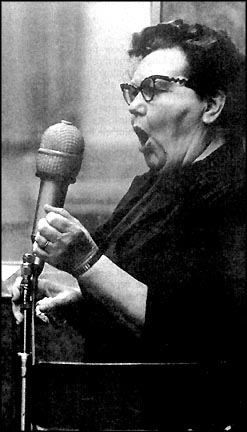 Mrs. Miller's success, like that of Florence Foster Jenkins and Wing, was undoubtedly due to the perceived awfulness of her singing. It seems that Capitol were keen to emphasize this—in a 1967 interview with Life magazine, she said that during recording sessions she was conducted half a beat ahead or behind time, and the worst of several different recordings of a song would be included on the finished record. She claimed to be initially unaware that her technical inability was being ridiculed, but eventually realised what was going on. At first she resented this, but eventually decided to play along with the joke. Nonetheless, she later attributed her
split with Capitol to her wanting to sing "straight" and record ballads, and Capitol wanting to continue with the "so bad it's good" angle.

Dana Countryman, former editor of "Cool and Strange Music Magazine" has made this bio on Elva.

Thanks to Wiel's timecapsule, you can get Mrs. Miller's "Does Her Ting" on Rogerpost or Mediafire.